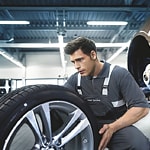 Our BMW of Visalia customers are all abuzz with questions about BMW Hazard Tire Coverage. What is it exactly? How does it work? What tires are eligible and for what reasons? We've got the quick, complete rundown.
Totally Covered Tire Replacement
Coverage includes replacement of BMW tires ruined during normal driving on state- and Visalia-maintained roads. The "road hazard" that the coverage title indicates refers to potholes, nails and glass. You can take advantage of the service through a licensed dealership like us or through a BMW Road Hazard Tire Coverage program administrator.
Read More