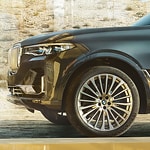 Full-on luxury doesn't get any better than the BMW X7, one of the makers flagship full-size luxury crossover sport utility vehicles. On top of being big, bold, elegantly styled and efficient, this ride also has high-tech, trend-forward safety features. For your edification, our team at BMW of Visalia takes a look at BMW X7 safety features.
The Blind Spot Monitor
This feature of the BMW X7 never gets old. Using embedded exterior sensors the BMW X7 detects vehicles that enter either of your blind spots. Once detected, the BMW X7 issues alerts to the driver. This helps you stay on top of your blind spots as you merge or change lanes in a more timely, confident, graceful manner.
The Forward-Collision Warning
One downward glance at a text is all it takes. BMW X7 has you covered during all your moments of possible distraction at the wheel. Its forward-collision warning scans the road ahead for potential accidents. It issues alerts, giving you time to slow and brake. If you can't slow and stop in time, the BMW X7 deploys automatic emergency braking.