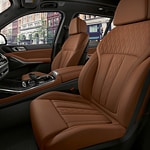 Safety is always a priority when you're driving a BMW X7. The robust driver assistance features are why our team at BMW of Visalia know you will appreciate what this car has to offer. You will feel safer while behind the wheel of a BMW X7.

Emergency Brake Assist

The available emergency brake assist feature in the BMW X7 offers a warning whenever there is a potential collision. It uses sensors to measure the distance and speed of the car or person in front of your vehicle. It can bring your car to a complete stop to prevent a collision.

Head-Up Display

The available head-up display is a feature in the BMW X7 that provides a wealth of information on the front windshield to ensure you have the information you need while on the road. System warnings, multimedia information and directional messages are examples of information provided on the head-up display. Quickly accessing data can help you stay safe on the road.