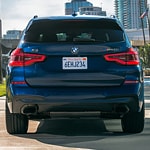 The X3 is BMW's luxurious two-row compact crossover, filling the gap between the subcompact X1 and the midsize X5. It's best thought of as the sport utility version of the 3 Series, which it now outsells as buyers are shifting their preferences to crossovers from sedans.
The new X3 is still a leader in its class, which includes rivals from other well-known luxury automakers. While these rivals are all strong competitors, the BMW X3 stands out in the crowd. It appeals to drivers who want a crossover with the road manners of a sport sedan and the practicality of an SUV—as well as the prestige that the BMW name brings.
All new X3 models at BMW of Visalia offer nimble handling, and there's now a wide range of powertrains to suit all budgets and tastes. Base models get their power from turbocharged four-cylinder engines, while the turbocharged inline six-cylinder offers more pep. If performance is what you're after, you'll find it in the X3 M, which puts out 503 horsepower.