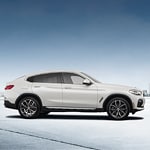 The BMW X4 is for lovers of luxurious crossover SUVs. If you happen to be one of them, come to our BMW of Visalia to get a personal experience of this car's safety features. Our expert team will enlighten you about this fantastic car and why you should choose it if you mind about safety.
Besides reliability, a common feature of BMW cars, the company added safety as a primary focus. The BMW X4 is fitted with features to assist the driver in safe handling. For instance, it has an automated emergency breaking that works perfectly with the forward collision warning to avoid collisions that the driver cannot prevent within their natural abilities.
Its tire monitoring system works best to ensure that all four wheels have balanced tire pressure. Tire pressure imbalances are a major cause of tire busts that cause fatal accidents. This system warns you whenever the pressure exceeds or goes below the allowed levels.