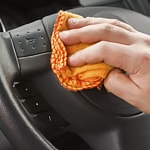 Spending the afternoon detailing your vehicle? Here are some helpful tips from BMW of Visalia to make quick work of some of the messes that you have going on.
Rinse the exterior of your vehicle before soaping up. This will get off some of the initial debris that could cause scratches if you immediately hit it with a sponge.
After washing, you can use a clay bar to remove small particulates from your exterior finish. This can be done a couple of times per year.
If you have leather interior, use products specifically designed to clean and treat leather. They'll provide a lovely shine that looks better than the day you brought your car home.
When you're done cleaning everything else, wipe the inside of your windows and front windshield with glass cleaner to prevent a glare at night.