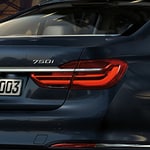 Consumers desiring a full-size luxury sedan commonly choose a 7 Series vehicle. The cars are equipped with the latest entertainment, convenience and safety features in addition to having a variety of powertrain options. Renovations featured on the latest 7 Series models available in Visalia include upgraded external components that make the car that much more stunning.
The 7 Series sedans in our BMW of Visalia inventory come in four different trim levels. Moving up to the next level means getting a more powerful engine. The base 740i and 740i xDrive models have the standard 3.0-liter turbocharged V6 engine and automatic eight-speed transmission that delivers 335 hp and 331 lb-ft of torque. The M760i xDrive on the other end of the spectrum comes with a twin-turbocharged 6.6-liter V12 engine and the same transmission to produce 601 hp and 627 lb-ft of torque.
The infotainment systems have a 10.3-inch touchscreen, Apple CarPlay and a premium 16-speaker stereo. All models now include heated armrests, front seats and steering wheel.