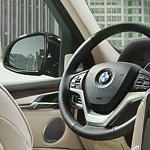 The BMW X5 is an exceptional automobile, and it keeps improving with each model. This remarkable SAV can be driven on the highway as well as off-road thanks to its wonderful automotive components. There's a 3.0-liter engine that's turbocharged. Up to 335 horsepower and 330 pound-feet of torque is available. The largest engine comes in 4.4 liters, and it generates 523 horsepower and 553 pound-feet of torque. Of course, your trim choice will be the deciding factor.
This vehicle also offers an eight-speed automatic transmission. If you opt for the X5 Tow Package, then you'll be able to tow as much as 7,200 pounds. The BMW X5 is a performance beast, but its interior is quite sophisticated. The vehicle's cabin is loaded with soft-touch materials, such as premium leather and glass controls. There's also dual 12.3-inch displays.
Come and test drive the new X5 from our location, so hit us up as soon as possible.