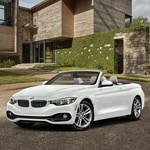 The BMW 4 Series offers automotive styles to suit nearly every taste. You can check out the various 4 Series models when you visit BMW of Visalia, so stop by our location as soon as you have the time to test drive one of the two-door coupes, four-coupe coupes, convertibles or all of the above.
The sporty appearance across the entire 4 Series conveys a sense of power while sacrificing nothing when it comes to style. All 4 Series models have been designed to display seamless, aerodynamic profiles and smooth, understated detailing.
The variations available within the 4 Series are nearly limitless. Each body style comes with its own unique amenities, and most feature your choice of either an in-line four-cylinder or an in-line six-cylinder engine. Rear-wheel drive and all-wheel drive versions are also available.